CHUCK THROWS BOB "UNDER THE BUS",
& TROUBLE IN SOFA SLEEPER HEAVEN
In what has become an annual event, a pack of Rez Dogs headed out to a couple of wild, secret places on the Colorado plateau to celebrate Peter Tempest's birthday and enjoy their status as terrain billionaires.

A report:

(see the post below for some of the amazing pics)
1. You will want to check this out.

First stop was a stunning natural arch – the 9th largest in the world - hidden in a maze of remote canyons on the eastern flank of a mountain chain.

This arch was first seen by non-Natives in 1988 (when Chad was 3, Greg was 8, Chuck and Paul were 14, Peter was 26 and Bob was 35) and is protected from the outside world by multiple defensive layers.

The excursion started out pretty sketchily with a rocky, sand-fest of a ride (Scott Nydam on his pugsley was the only guy not constantly fishtailing and making believers out of more than a couple of

Rez Dogs), but ended up exceeding expectations when the arch suddenly popped into view above us.

Hey, guys this is a special place – one that you will really want to check out at some point in your life.
2. Chuck throws Bob under the bus.

In the last couple of weeks, Chuck Van Drunen was a whirling dervish of activity in three different states.

I know, you say Chuck is always a whirling dervish.

Yeah, you're right, but the last couple of weeks (Hurricane, Stuccoing the Box S Cabin, Fruita/Grand Junction & Santa Fe) have been off the charts even by Chuck's standards.

As a result, Chuck didn't get the word about this year's trip to everyone on his list and, from the beginning he was worried about who might have been left out.

Predictably, as we were headed out from the arch to the main road he got a call from Chad "the Ghost" Meekhof who was free for the weekend, but learned about the trip too late.

Instead of taking the bullet himself, Chuck threw Bob (all 235 pounds of him) "under the bus" by telling Chad, "Bob sent out the emails. Didn't he include you?"

Bob only dug his hole deeper when he took Chuck's cell and told Chad, "Just get on your knees and beg your wife for permission to come.

It's not too late to meet us in Chinle."
3.

Full moon stuns Kevin.

After driving over an Alpe D' Huez - like road bike ride (super steep, tight switchbacks) that Paul Berry had scouted and wants us to ride soon, we met Kevin Zwiers on the other side and who seemed dazed and disoriented – almost like he had been stunned by the sight of a full moon (or two).

Kevin seemed so transfixed by the full moon that later in the night he asked Greg Cavanaugh to take a few shots of it on Chuck's camera when Chuck was otherwise occupied.
4.

Peter discloses yet another T-bone.

On the rim of Canyon de Chelly with moon light and a sheep birthday cake Peter let it slip out that not only has he T-boned a sheep and a Ferrari (driven by a blonde who bitched him out and then threatened to sue him), but a dog on a rez ride as well.

A quick head count revealed that Paul hit a cow with a glancing blow once and Scott smacked a kid with a basket full on rocks on his head in Rwanda, but the other six guys had no T-bones while Peter now has three (that we know about).

Is this story never going to end?

By the time this is over, can you imagine what Peter's birthday cake is going to look like?

There won't be enough room to put everything on it that he has T-boned.
5.

Trouble in sofa sleeper heaven.

Chuck and Paul went to bed bickering like an old married couple and within minutes of the alarm going off at 6am they were back at it:

"It was like I had a Yeti breathing down my neck all night", "You breathe the same way when you sleep that you breathe when you are climbing on your bike", and "At least you didn't have to sleep all night next to a guy in paper thin tighty whiteys."
6. An outrageously remote slick rock paradise.

Sunday was reserved for our annual slickrock epic ride – which this year we rode from north to south.

You know, epic is an overused word, but this ride is really is just that.

It's one that of the few things we do in our modern lives that is a little adventurous.

This year we replaced a two mile stretch of sandy two track in the morning with a dicey traverse on angled slickrock ending with a gnarly hike-a-bike that then leads to an outrageously remote sea of slickrock on a high mesa.

(see the post below for proof)

This year's stats were 7 ½ hours, 4 flats (3 by Peter and 1 by Bob), 0 major mechanicals and 44 miles (5 on dirt road to start, 30 on amazing slickrock, 4 on mixed ground with sand and 5 on pavement to finish).

New to the ride this year were ace photographer Brian Leddy; Kevin; recently local Scottie Nydam; and as a distinguished guest Scott's buddy, Obed Ruvogera, from Team Rwanda Cycling.

Obed is in the states to accompanying the much anticipated release of "Rising from the Ashes" featuring his cycling team.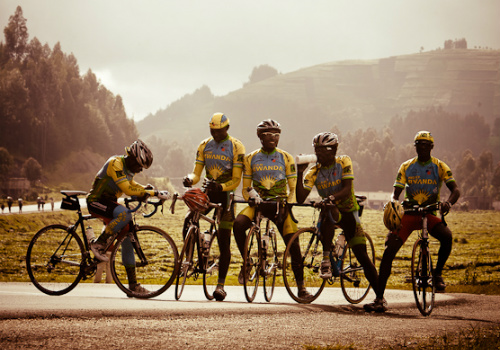 Concluding questions.

Did Greg really say that or was it a dream?

I'm talking about our underappreciated director sportif, Greg, who started this year's trip – as he did last year – by saying, "My goal this year is to not make the blog."

We have, as usual, some wildly conflicting reports but several dogs report that Greg randomly blurted out (As he was walking out of the Chinle Burger King. Yeah, that's right – the Chinle Burger King of all places.), "My penis is adequately sized – more than adequately sized".

Is there a more sure fire way to make the blog?

Well, if there is, I haven't heard it yet.

Have you?

The next morning Chuck was saying, "I had the weirdest dream.

I dreamed that Greg was talking about the size of his penis at the Chinle Burger King.

That had to be a dream.

That's way too crazy to have really happened."

As always, we report.

You decide.